I love this party! I've already found some great new blogs to follow (like I really needed more!).
1. A blogger who is a "New Kid on the Blog"
(Let's say someone who has blogged 2 months or less and has less than 200 followers)

2. Post a blogger in your same grade level

3. Post a blogger in a different grade level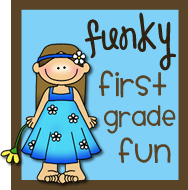 4. It's all about the button. Find a cute blog button and post it.