That's right! We're at it again. I got to review not one but two products this time!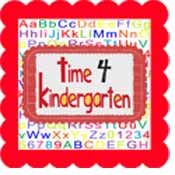 My first product comes from Tiffani over at Time 4 Kindergarten.
I got to check out her Alphabet Up a Tree unit. You can find it in her TpT store here.
This cute unit has some great letter recognition and beginning sound games. The graphics are adorable!
These amazingly cute cards were loved by my kiddos. My daughter enjoyed matching them all up with upper, lower, and beginning sounds. My son worked with hubby on a rousing game of which letter says /m/.
Both kiddos enjoyed the alphabet tree upper/lower matching.
This unit includes: the matching cards (upper/lower/beginning sounds), D'Nealian handwriting pages, letter matching trees, cut and paste activities, graphing questions, and class book covers.
All of this is only $4.00! Crazy, I know. This is one you have to check out!
Head over now to Tiffani's TpT store to grab this unit. (Psst...you might just find a flash sale there so hurry!)
Now for the great giveaway! When a copy of Tiffani's Alphabet Up a Tree unit and my Crayon Box That Talked unit
(which is on sale right now!)
that she reviewed!